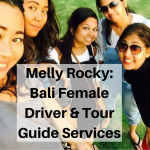 Could you tell us a little about yourself and your background?
My name is Melly, and I am a single mom with two sons, working in a hospitality management company in Bali as Marketing Communications Officer.
I created 'Bali Fe' (which is my Bali Female Driver & Tour Services company) because I have a group of single mothers who are hardworking parents looking to provide for their children.
I felt that having a female driver is more appealing and comfortable for most visitors to Bali (especially female traveller or female solo travellers), this is what inspired me so much to create something for others.
---
How long have you been a female driver and tour guide in Bali and what kind of people usually use your service?
I started my first business in 2011 with the transport and tour services but the idea for Bali female drivers and tour guides has been since early 2017.
---
What tips or advice would you give to people going to Bali for the first time?
Especially for first-time travellers to Bali, check online what you want to do and see in Bali as there is so much. Try to make friends with local people.
If you choose to take a tour with us, just tell us where you would like to go.
---
Where are some of your favourite places to take people in Bali and why do you like them?
I like to take them in Ubud area, why because I like the atmosphere personally and people can learn about the culture and do many other things.
---
Can you recommend any good places to eat typical Balinese or Indonesian food?
For Balinese food, try the following:
Nasi Ayam Kedewatan Bu Mangku

Babi Guling Bu Oka

Bebek Teba Sari Resto (good food and good view)
And many more!
---
What is the best way for people to contact you if they would like you to take them around Bali?
Whatsapp (for fast response): +6287869714888
Facebook Page: Bali female driver & tour services
Email: balifemaledriver@livebali.net
---
More about Melly's Company
Bali Fe is A provider of transportation services & tour packages in Bali. Founded by several highly-motivated women, it provides comfortable, casual, reliable, cost-worthy services.
Some more photos of happy people!

Join the Live Bali newsletter!
Subscribe to get our latest content by email.