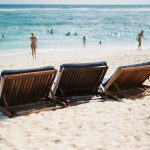 *NB – Full article below the video!*
Getting a car is not really an option
If you want to travel around Bali day-to-day, with the traffic congestion and jams, getting a car is not really an option because if you are working or have any schedule on the island, trying to cut through the traffic is an absolute nightmare! However, if you have a scooter, which is not only cheaper but also easier to get hold of, you can cut through the traffic and weave in and out and save yourself an immense amount of time.
Another problem with getting a car in Bali is that second-hand cars are almost non-existent so you cannot find any cheap used cars – you have to either buy brand new, which is the same price as in any other country, or buy a second-hand car for much more than you would ever pay anywhere else in the Western world. And although cars are much safer than scooters, the issues of Bali traffic and the like really make them not worth looking into.
Walking around Bali on foot is not as you expect
If you are like me, you might hope to walk around Bali instead of driving everywhere on motorised transport. Unfortunately, pedestrians are not very well catered for on the island of Bali. Firstly, the pavements are often missing slabs and have large holes in them meaning you can fall through them and injure yourself very seriously. They also regularly have metal rods sticking out from unfinished construction. Another thing to consider is the heat, which although obvious, there is very little shade when you are out and about other than in businesses or shops. You will find yourself having to duck in and out of shops that you don't want to go into feeling almost obliged to buy things. Added to the above is that, as a Western tourist, you are seen as a walking dollar sign and you will be constantly called and coaxed into conversations if you go just about anywhere in Bali on foot. One last point is that often there are no pavements at all or motorbikes may sometimes be riding along them to cut through the traffic. In short, you're better off getting a motorbike!
Renting long-term needs a lot of cash up front
If you want to rent somewhere long term in Bali, one of the most annoying aspect of it is the fact that almost all landlords request full payment up front. They also usually only put their properties up for rent at a minimum of 1 year or possibly 2 years meaning that even if it is cheap you still need to have a large sum of money at your disposal even if you are in Bali to work as they require a lump sum of cash. That is not to say that there are no other options, for example I lived in a kos, or boarding house, for nearly 3 years and I could pay the monthly instalments at around $150 US for a furnished apartment.
4. Cheapest months to fly to Bali are November & February
As Bali is such a major tourist mecca, there are almost no months when it is actually quiet. However, due to the weather and the lack of major holidays, the cheapest time to fly to Bali are usually November and February. Note that these both fall within the rainy season, which is much more humid and generally less pleasant than the dry season, which is from around April to October. If you are a surfer, there are still plenty of waves in these months and don't be put off by the stories online saying saying they're not good – Bali's wet season is much better than most other surf destinations I've been to in their peak seasons!
Broadband internet in Bali is a hassle
Things have come a long way in Bali in terms of Internet and access but getting broadband Internet is still slightly frustrating. Telkom Speedy is probably the best choice for regular of family users however you must have a phone line already to get this easily if you don't then you will have to speak to the landlord as this could be a slight issue and they will probably ask you to foot the bill. Annoyingly, Telkom's website has the information in Indonesian but it is written in a message so not even Google Translate can help you. Despite this, most Telkom staff speak enough English for you to get this done. Even then, expect more frequent blackouts and lack of access than in your home country due to the general infrastructure problems of Indonesia being a developing country.
Dairy products are not cheap
With the climate being hot all year round, dairy products are not part of the local diet or cuisine due to the problems with storing and keeping them fresh. As a result of this lower production than most Western nations, the cost of milk and any general dairy product is much higher than you might expect, in fact it's probably much higher than the country which you have come from. If you are a vegan, this may not be a problem, but if you want your milk and cheeses on a regular basis expect to pay top dollar for them!
Online shopping is almost non-existent
As many of us have become so used to shopping online, when you cannot find what you want in a local shop going online is normally the second port of call. Here's the catch: due to lack of widespread Internet access and also a failing and almost useless postal service in Indonesia, Internet shopping is nothing like it is in most other countries. There is no eBay or Amazon equivalent, for example. If you cannot find it in the shops, you are going to struggle. If you do buy something online that will ship to Indonesia, as many websites refused to, do not be surprised if it does not arrive! I ordered some books through Wordery, which did arrive, one month later, but I didn't order much else.
A night out at the movies is not the same
With only two real cinemas in Bali, there is a long delay in getting most of the major Hollywood blockbusters and, surprise surprise, tickets can't be bought online. That means often waiting outside the box office at a time when they open and occasionally standing in a queue to get them with teenage kids (depending on your choice of film!) Another thing is that smoking is allowed in the cinema and people are generally louder, making the cinema-going experience more frustrating than most other places I've been.
On the flip side, the tickets are quite a lot cheaper (around $3/person) so it's not all bad. The main cinema is located at Mall Bali Galeria, which is fairly central and easily accessible.
Recycling services come at a price
Coming from a country which has moved to a thorough recycling system over the last decade, it was quite a shock to me to see general waste being burnt when I arrived in Bali.
Although I didn't expect refuse collection to be fully organised, I wasn't quite prepared for it to be as poor as it is and also for the only recycling collection service to be a rather pricy set up run by expats. That said, if you have the funds and are environmentally minded, you can pay for the great service from ecoBali to have your recycling collected every week. Otherwise, leave it outside for the neighbours and scavengers to pick through and make out of it what they will before it gets burnt.
Re-filling your water on a motorbike is not an easy task
As most water coolers only take the gallon drum of drinking water, and because you will never drink from a tap during your stay in Bali, trips back and forth to local shops for water refills will become a regular activity. The only catch, however, is that most of this needs to be balanced on a rather skimpy scooter. This can be done, but is a daunting task at first and needs some practice. Just take it easy and pay special attention when rounding corners – it will certainly give your thighs a workout keeping the bottle centred on that little scooter!
Shoe sizes 10+ are almost impossible to find
Being a US shoe size 11, which is larger than average but definitely not huge, I had difficulty finding any shops which had shoes in my size. I did eventually find some in the Bata shop in one of the malls, which meant I had to choose the only pair I could find for work without any choice! Hence, my advice for anyone moving to Bali with a size 10+ US shoe is to take extra pairs with you if possible as it will save the hassle later.
For some reason, finding flip-flops and sandals to fit was not such an issue, but still something to consider when packing your bags.
For more, follow me on Twitter @stephenbeale and @livebali!