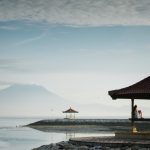 Bali is an intriguing destination where cultural experiences can be found next to incredible landscapes and where ancient temples offer a step back in time, far away from the modern luxury villas on the island. Renowned for exotic foods, friendly locals and exciting new experiences, there is much to look forward to on the island, but there are also some pitfalls to be aware of. For this reason, below are 5 bits of holiday advice for your first time in Bali.
1. Eat in an expensive warung for your first meal out and reduce the risk of ""Bali belly""
Instead of going straight in for the cheapest food, try a slightly upmarket warung to get your first taste of Indonesian food. A general rule is that the more exclusive the warung, the less likely you will experience any bad feelings afterwards. In fact, the best way to avoid what locals and visitors refer to as "Bali belly" is to choose a more expensive warung restaurant for the first meal and proceed with more adventurous options later on.
PS Looking for the best things to do in Bali? See The Crazy Tourist's list here!
2. Avoid arak and choose branded drinks
Bali's very own version of moonshine, Arak is a locally produced alcohol that originates from the palm tree. Although common throughout the island, mostly with locals, huge controversy surrounds this traditional liquor which is often the main component in cheap cocktails or drinks on the island. Many news reports have raised concerns for the dangers of Arak and it is widely known to have been the cause of fatalities on the island, not to mention the number of reports regarding severe damage to the health of individuals who have consumed the drink. Do yourself a favor, no matter how cheap or how cultural it appears to consume the local brew, stay safe on your first time in Bali by choosing the more expensive brands such as Bintang and avoid the potential damage one experience with Arak could have to your everlasting health.
3. Avoid eye contact with street hawkers and sellers
It may seem rude or impolite on your first time in Bali, but it is usually much easier just to avoid eye contact and keep walking. Time is short on your adventure so make sure you don't get too caught up fending off street hawkers trying to talk you into buying yet another sarong or bracelet!
4. Get taxis with a fixed price from Ngurah Rai airport – check the list for the official prices
Arriving in any new destination can feel vulnerable or confusing and unfortunately, this lack of experience can motivate the more shady characters to take advantage on peoples trip to Bali first time. Upon arrival in Ngurah Rai Airport, you will likely be approached by several drivers outside and while it would be nice to take everyone for their word, there is simply no loyalty with dishonest drivers. The best Bali travel tip to avoid any issues regarding over pricing is to check fixed price journeys on the sign and agree on one with the driver before departing for your desired location.
5. Be smart when it comes to changing Money – avoid "money changers"
Changing money should be a straight forward process but unfortunately, this is not the case in Bali. Regardless as to where you request this service, it is likely that both the rate, and then the conversion itself, will be tampered with by the person processing the change, leaving you with less value. A simple piece of Bali holiday advice is to stop this from happening by availing of a pre-paid card or using a credit/debit card for transactions which are always much more cost effective ways to get some local currency. If you think this is simply a case of locals taking advantage of unassuming tourists, think again, for these scams are used on experienced travelers and locals alike.
 How about your first time in Bali?
Now over to you – tell us about when you are planning to go to Bali and any other advice you need in the comments.
Otherwise, if you have been to Bali, say what things you learned along the way!
Talk soon,
Steve