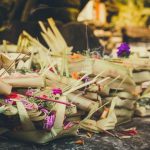 Thinking of moving to Bali but want to have a test run first?
This article is for  you if you are someone who wants to move to Bali but also wants to test living on the 'Island of the Gods' first because:
You think you probably want to live there, but have never actually been to Bali before

You are pretty sure but not 100% living in Bali is for you

You don't know anyone on the island before going

You are trying to get an idea of what to expect
Most common questions about moving to Bali – answered below!
The most common questions I get from people who are thinking of staying permanently in Bali are things like:
How to go from the tourist visa to a permanent one? Should I get a visa on arrival and then turn that into a longer term visa? Do I definitely need a visa agent in Bali?
When finding somewhere to stay in Bali, should I book somewhere up front or wait until I get there?
What longer term options for accommodation in Bali are there?
How to take out cash with my bank account in Bali?
So here goes with my answers!
Should you find somewhere to stay before arriving in Bali or just rock up and see what happens?
Come in on a tourist visa and get a feel for the place – you might not like it (does happen!)
Bali is portrayed as this tropical island, this perfect paradise, but it isn't always like that, especially when you encounter the traffic jams on a daily basis. You've got to really see is it for you.
The weather might not be for you, also. I'm assuming you're going to like it because obviously you know what it's like (that it's tropical!), but the wet season can be quite long and arduous. Just think about that.
Visiting on a tourist visa is a really easy way to scope out the island and see it for real. As just a visit on a tourist visa there's nothing binding keeping you in Bali.
Also, it's a great way for you to network and meet people on the island because through networking and meeting people is by far the best way to get those inside contacts and all that info about the better prices than are available to tourists visiting Bali, which is the easier way to do things.
Being on the island just gives you access to invaluable information that is so hard to get online, even though I try to make it available (there's more coming, I promise!). It's quite hard to give it all on a blog, all the little inside tips and tricks.
Also, once you make those connections you can also hopefully find people who can put you on to good accommodation and also even possibly visa agents.
Get a visa agent through contacts, not the internet
Now, for visas, a lot of people think they might be able to do it themselves. I'm sorry, but it's going to be a real nightmare if you try and do it yourself as a non-native Indonesian speaker or anyone coming in for the first time, an absolute bureaucratic nightmare. It might not even be possible to do it on your own. But I don't know anyone who's ever done it.
Most people just get a visa agent for the hassle, time and difficulty of getting a visa like a sosial budaya visa in Bali, which is why I'd suggest you do the same and use your networking contacts above for that reason.
Now, as for visa agents, I've never had to use one because when I lived in Bali, the companies I worked for always arranged it.
However, if you find a Bali visa agent online before arriving, they will probably be at a premium price. I know plenty of people who have gone through visa agents, and got the right visas, it can be done but will come at a cost. One thing I would say on the visa front is obviously to find an agent through a friend, someone you trust, which might take a while to find.
Also, if you are thinking of getting a work visa for Bali, known as a KITAS, which is obviously way further down the line, they cost around
Book onward travel to Singapore through Air Asia for around $150 return (in advance)
Also, what you can do before you get into Bali, if you're going to come in on the visa on arrival, is to book onward travel because you need to show this at customs for them to let you in, to Singapore with Air Asia, for example.
A return flight to Singapore can be as low as $150 US, especially if you book in advance. With that ticket, you can show it to customs and you've got that easy way out if need be, but you might also end up using it for your visa anyway.
Also, book it near the end of your stay. As a UK citizen, when I was there, the visa on arrival were 30 days. I'm not sure where you're coming from but just check how long is a visa on arrival for Indonesia. It's pretty straightforward. The customs guys are pretty relaxed, but I wouldn't take a chance with that.
Get some inside info from the Internations Bali Community online before coming
Also, you could try to get some inside info online before arriving in Bali. A website I've had some use of from is www.internations.org. Internations has quite a vibrant international community based in Bali. It was only just starting up when I left Bali a couple of years ago, but the person who set it up, Malte Zeeke, seems like a nice guy and it's grown steadily since.
There's a pretty vibrant international community on there. Hence, you could join up. There is a pay-for option but there's also the free option. Try and get some info out of those guys on there. It seems like it's a pretty lively community these days. They should be able to help.
Book a maximum of 1 week's accommodation in advance, then find your way from there – don't expect to be living in a villa on a tight budget!
As far as accommodation goes, if you want to get a feel for the accommodation before coming, for longer term options you can have a look at the Bali Advertiser classified ads website. That gives you some prices and they're for expats, so it will give you an idea of the longer term prices more realistic.
However, most places to rent in Bali on there are for yearly or two yearly rents and come unfurnished. That's a common thing in Indonesia. They ask you to pay up front and in cash with no real contracts for the accommodation to speak of.
Also, if you're looking for villas, which would obviously everyone wants to stay in a villa type accommodation, but just if you're looking in the short term when you first arrive, you should be aware that you're in tourist prices there because if you're looking at a monthly accommodation you're competing with tourists as the average visa on arrival is for a month.
The prices are therefore pushed up. You might be surprised. They might not be as cheap as you expect, but that is because you are in direct competition with tourists who are willing to pay crazy prices. Just be aware of that. That said, if you're going in the months of November or February, which are the quietest and also cheapest times, you might find some better deals but that's definitely not a given.
Where I stayed when I was in Bali for just short of three years, was a rumah kost, which literally translates as a boarding house. Now, what we had in reality was chalet-style apartments all in a row but they were separated. It was very cheap. We were paying $140 US a month.
My wife and I were living there. That included all our bills. It was fully furnished. We didn't have a pool but you can get ones with a communal pool, at least outdoors. They are a dime a dozen there everywhere, but you won't find many websites for them.
Definitely if you do find a website for any Balinese kos or rumah kost, don't book them directly because you really need to see them and get a feel for them in person. I should say that rumah kost, or rumah kos means boarding house in English. They're all over the place.
Kos in Bali are are the mid-range, longer term option, but you can pay for them one month at a time quite easily. However, just have a look at the place and don't commit to anything up front is my strong advice. You should easily be able to only pay in monthly installments, perhaps with a 1 month deposit in advance.
I should say also, that, for accommodation in Bali before you arrive, book online, maybe for a couple of days but more than a week because you don't really need to. You will find somewhere.
Also, you'll be amazed how much cheaper accommodation is once you're in Bali as opposed to the online prices. Any trustworthy, standard tourist websites for booking this would be fine – the usual stuff!
To get cash in Bali, take your Visa/Mastercard from home and take the hit – it's better than getting scammed
Another question is about getting cash when you're there. What the best way to do that? Personally, I would just take the hit and withdraw using an ATM or your bank card from home because although you pay a fee and you might not get the best rate, the money changers always rip people off and scam them with slight of hand tricks.
They're called money changers as it's usually a 1 man station or kiosk and they count the cash in front of you. Don't use them ever! They try to rip everyone off. I even know people who lived there for several years who had to use them once and they got ripped off, even knowing all the tricks of the trade.
You might want to get an FX or foreign exchange card. I don't know how easy they are to use as I haven't used them in Bali myself. Something my brother's using but I haven't used myself is a foreign currency service called Revolut, which has an app. Also, they send out a card to you. If you get that in advance that might be helpful.
Expect to pay for almost everything in cash – card payment is rare in Bali
One thing to realize about Bali is very few places have card machines for you to pay for things like restaurants on your debit or credit card from home.
Almost everything is done in cash.
Also for rentals when moving to Bali, if you're going to rent long term they need payment one to two years up front, as I mentioned. You'd need some way of getting that cash, a large amount, because even though it's quite cheap, you need that large sum.
These are all things to think about if you want to move to Bali but want to try it out first anda little unsure.
Any more questions about moving to Bali for the first time, leave them in the comments below!